Model NO.:

69-8311

Certification:

TUV, GS

Certificate:

ISO9001, BV, SGS

Price:

Direct Manufacturer Price

Export Markets:

Global

Key Word:

Carbon Brush and Holder Assembly

Trademark:

IUGIS

Specification:

STANDARD

HS Code:

85452000
Type:

Carbon Brush and Holder Assembly

Voltage:

Standard

Quality Level:

OEM Quality

Tags:

Quality Assured

Apply:

for Bosch Starters

Sample:

Offer

Transport Package:

Blister Card Packing/Normal Polybag/Your Design

Origin:

Shanghai China
                         

69-8311 electric motor brush holder for starter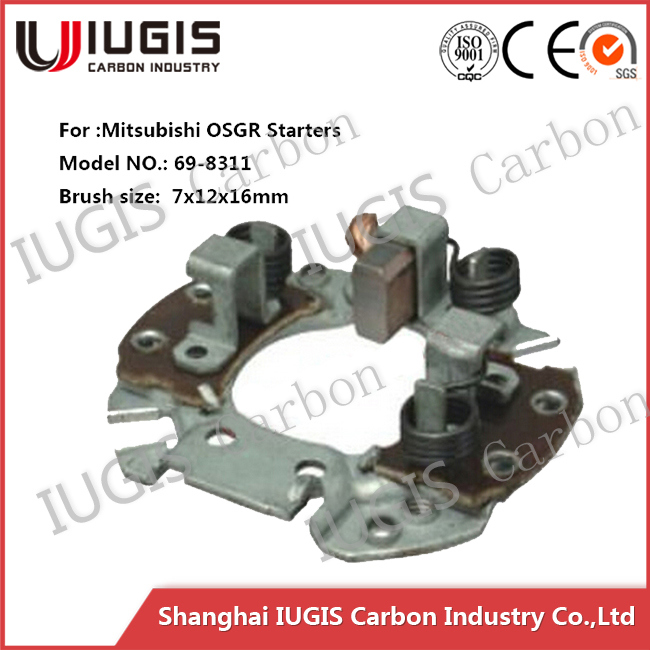 Product name
carbon brush and holder assembly
Model no.
69-8311
Apply for

 

Mitsubishi OSGR Starters
Mitsubishi
*
Used on
(1994-81) Dodge, Mazda, Mitsubishi, Nissan, Plymouth; Bobcat, Clark, Ford Tractor, Gehl, International, Ingersoll-Rand, Nissan Lift Truck, Onan, Perkins,Toro
VOLTAGE
12v
brush size

 

7x12x16mm
69-8311 Carbon Brush Holder Lester Nos

 

16584, 16717, 16720, 16803, 16816, 16855, 16866, 16875, 16935, 16982, 17110, 17173, 17178
Brush Holder 69-8311 Interchange
for AES
3819
for MAZDA
N202-24-750
for NISSAN
23378-H5911

    

23378-N5911
for ONAN
191-1475
for PIC
5503-045
★CARBON BRUSH AND HOLDER ASSEMBLY FOR

BOSCH

STARTER AND ALTERNATOR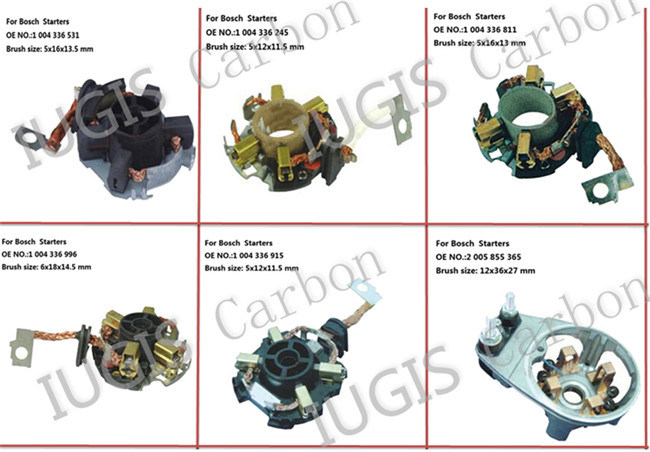 More models for  bosch
| | | | | |
| --- | --- | --- | --- | --- |
| 39-9100 | 39-9102 | 69-9100 | 69-9102 | 69-9105 |
| 69-9113 | 69-9114 | 69-9111 | 69-9109 | 69-9106 |
| 69-9115 | 69-9116 | 69-9117 | 69-9118 | 69-9121 |
| 69-9125 | 1004336200 | 1004336245 | 1004336518 | 1004336531 |
| 1004336811 | 1004336820 | 1004336915 | 1004336963 | 1004336996 |
★ 
CARBON BRUSH AND HOLDER ASSEMBLY FOR

DELCO

STARTER AND ALTERNATOR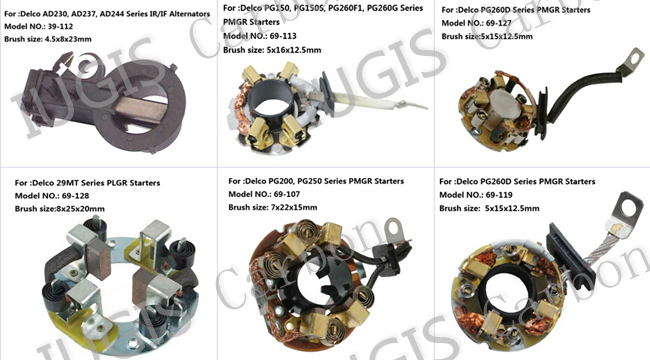 more models for delco
| | | | | |
| --- | --- | --- | --- | --- |
| 39-100-3 | 39-101-3 | 39-104-3 | 39-105 | 39-110 |
| 39-111 | 39-112 | 69-101 | 69-102-1 | 69-103 |
| 69-103-3 | 69-104 | 69-105-3 | 69-106 | 69-107 |
| 69-108 | 69-109 | 69-111 | 69-113 | 69-113-1 |
| 69-114-1 | 69-115-1 | 69-116 | 69-117 | 69-118 |
| 69-119 | 69-120 | 69-121 | 69-122 | 69-125 |
| 69-127 | 69-128 | 69-1200 | 69-8400 | Â  |
★CARBON BRUSH AND HOLDER ASSEMBLY FOR

DENSO

STARTER AND ALTERNATORÂ Â Â Â Â Â Â Â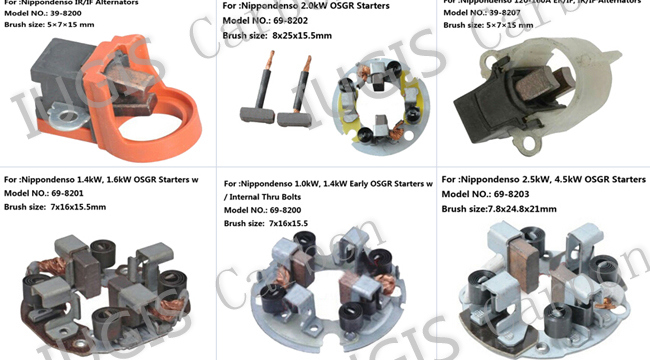 More models for denso
| | | | | |
| --- | --- | --- | --- | --- |
| 39-8200 | 39-8201 | 39-8202 | 39-8203-3 | 39-8207 |
| 69-8200 | 69-8201 | 69-8202 | 69-8203 | 69-8206-2 |
| 69-8207-2 | 69-8208 | Â  | Â  | Â  |
★CARBON BRUSH AND HOLDER ASSEMBLY FOR

FORD

STARTER AND ALTERNATORÂ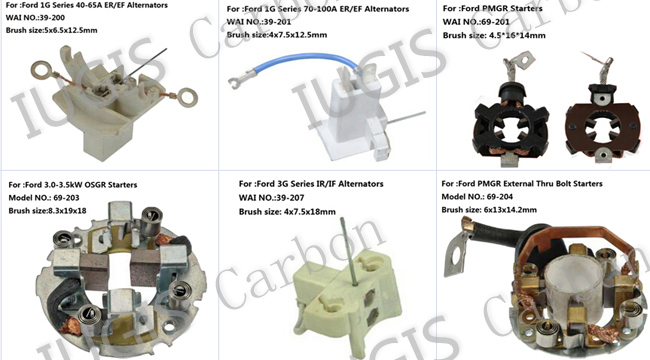 More models for FORD
39-200
39-201
39-202
39-207
39-207-1
42-2317
69-201
69-201-2
69-202-3
69-203
69-204
69-2202
69-2204
E9OZ-11061-A
★CARBON BRUSH AND HOLDER ASSEMBLY FOR

HITACHÂ 

STARTER AND ALTERNATORÂ 
| | | | | |
| --- | --- | --- | --- | --- |
| 39-8105 | 39-8108 | 39-8112 | 39-8114 | 39-8116 |
| 39-8118 | 69-8101 | 69-8104 | 69-8105 | 69-8113 |
| 69-8115 | 69-8117 | 69-8118 | Â  | Â  |
★CARBON BRUSH AND HOLDER ASSEMBLY FOR

MISTSUBISHIÂ 

STARTER AND ALTERNA
| | | | | |
| --- | --- | --- | --- | --- |
| 39-8300 | 39-8301 | 69-8300 | 69-8301 | 69-8302 |
| 69-8306 | 69-8308 | 69-8308-1 | 69-8309 | 69-8311 |
| 69-8312 | 69-8313 | 69-8315 | 69-8317 | 69-8318 |
| 69-8322 | 69-8323 | M649X20771 | Â  | Â  |
All kinds of carbon brush and holder assemblies for automobile starters and alternators.If you still cannot find the holder assembly you want,please feel free to contact us!

WHY CHOOSE US?
1.We can supply various kinds of carbon brush and brush holder for automotive, motorcycle, electric power tools, home appliance etc.
 
2.With advanced technology and automatic machine, quality assured products are produced for customers.Moreover, they have passed the ISO 9001:2001 certification.
 
3.Products are characterized by little spark, low noise, long time, and lubrication.Nonstandard carbon brush can be designed and manufactured as your personal samples or drawings.
4.Any request for dimension and types, please feel free to let us know!We offer good price and fastest delivery!
FACTORY:
Welcome to our factory!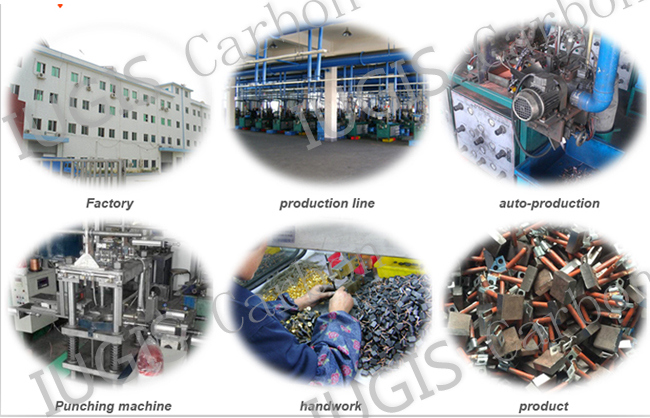 FAQ:
Q:How to get in touch with us?
A:You can click "Contact Now"above,
Q:How to pay?
A:Normally we advise accept T/T, L/C, accept Western Union, Paypal also.
Q:Can you make by customer's design?
A:Yes, we can.Please email your design details to us, we will make as your requirement.
5.What's the delivery time?
A:Normally within 15 days, also depends on your order quantity.
 
As the product design and specification more than the given product attributes, images, prices are for reference only, welcome to send your design and requests to us, thanks.
Product Name:Prestressed hollow square pile mould
Size/Material:steel
Products Description:Prestressed Hollw Square pile mould which is used to produce the hollow square pile, this kind of Hollow square pile in the process of production, it use tension prestressed, reperfusion concrete and then use Centrifugal Machine to spinning the water out, because of this processing that makes reinforced prestressed hollow square pile is higher than other type of pile, at the same time, the pile body used the high strength concrete (C60, C80), high strength steel and high strength concrete in the application of hollow square pile production, make the performance of the pile, the bearing capacity and crack resistance, bending resistance are obtained significantly higher.
Application:Produce prestressed hollow square pile
Technical parameters:F250-F800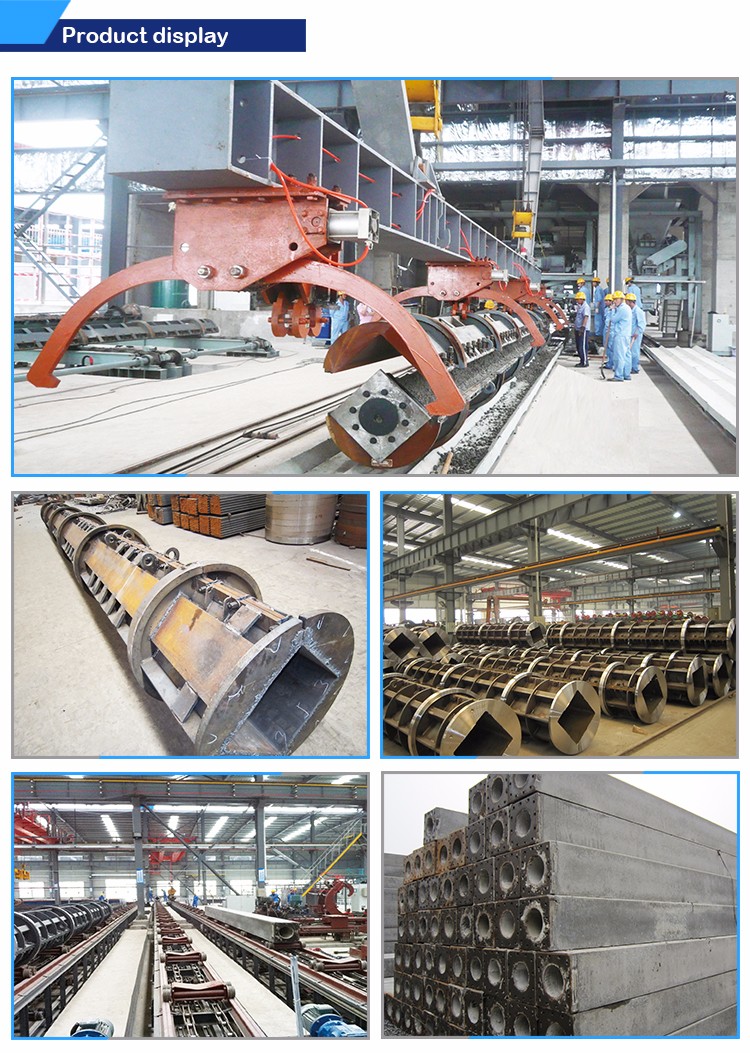 Concrete Hollow Square Pile Mould
Steel Piles,Reliable Square Pile Mould,Thailand Square Pile Mould,Concrete Hollow Square Pile Mould
Jiangsu Haiheng Building-Materials Machinery Co.,Ltd , https://www.jshaiheng.com