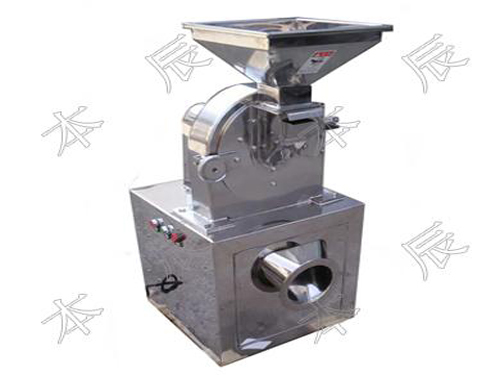 With the development of the Internet era, traditional Chinese medicine crusher manufacturers attach more and more importance to the propaganda role of the Internet and the role of corporate sales and brand building. However, the side effects of the Internet have gradually emerged. Recently, many versions of traditional Chinese medicine crusher rankings have appeared online. Crusher manufacturers we will tell you the hidden information for you to choose the right Chinese medicine grinder to provide a reference! When the so-called first name keeps changing, the credibility of the brand itself has also been questioned by people. What makes a Chinese pulverizer a good one? This is a very general answer to the problem itself, and the quality of the product itself. Well, the fineness of crushing is high, accessories are not easy to damage and replacement is very easy, more humane and more convenient, etc., we meet the above conditions we call it suitable for a good Chinese medicine grinder, but we never call it the first The name of the Chinese medicine grinder, which is determined by our habits, is also determined by my knowledge. The ranking of industrial products is deceptive. Only good is the first in the minds of users.

The Chinese medicine grinders we talked about here include both traditional Chinese medicine grinders, traditional Chinese medicine ultrafine grinders and small traditional Chinese medicine grinders, as well as small-sized traditional Chinese medicine grinders that are used in many homes, and small-scale traditional Chinese medicine pulverizers used in pharmacies. (Commonly known as Sanqi Crusher), the machine can be divided into vertical and swing-type, whether it is a swing or vertical one can be easy to operate and use, and the use of closed smash pollution-free, maintenance operator safety and health; The motor adopts the domestic brand motor, the bearing adopts the Japanese imported bearing, 100% promise free warranty for one year, and lifelong service; the contact part adopts high quality 304 stainless steel material, and the appearance is in conformity with the sanitary standard. The above can be said to be the outstanding technical features of the traditional Chinese medicine crusher. However, at present, the production R&D of many traditional Chinese medicine crusher manufacturers has not been carried out according to the needs of the market and the actual situation of the Chinese medicine crusher. Some pharmaceutical machinery manufacturers do not really understand the actual production of pharmaceutical companies. Processes, regardless of whether the requirements put forward by the pharmaceutical factories are correct or not, are not perfect in terms of requirements such as the fineness, depth, and connectivity. In addition, the lack of compound talent is also a major cause of the slow development of the industry. Pharmaceutical machinery is a special specialty, integrating pharmaceutical technology, chemical machinery, refrigeration, automatic control, packaging machinery, manufacturing processes, welding, automation control, and computer application.

The idea of ​​pharmaceutical machinery research and development is to penetrate these related professions throughout the entire process of design validation. Nowadays, those who are engaged in the research and development of pharmaceutical machinery can skillfully take into account only two or three of them, and it is difficult for a single professional to be involved in the concept of R&D. Inject these professional elements. Products can not keep up with the market can only start from other aspects, and currently more commonly used method is to chaos speculation through the network, advertised their products as omnipotent, devalued competitors in order to gain market share, which also appeared online Which of the so-called top ten brands of traditional Chinese medicine crushers, top ten Chinese medicine crushers and other absurd and unfounded things, and then this solemn statement, this Chen Chinese medicine grinders dare to compare with any of the products, and to the so-called top ten brands Sending out challenges, we are willing to obtain market recognition through leading technology, first-class quality and after-sales service. We do not engage in rankings, do not engage in hype, and do things in a down-to-earth manner. We serve wholeheartedly, and Chinese medicine grinders do not believe the quality of ranking letters. Shijiazhuang Benchen Electromechanical Equipment Co., Ltd. welcomes your visit, we will provide you with the most professional grinder knowledge, provide you with guidance on the purchase and use of maintenance, traditional Chinese medicine grinder to choose this Chen mechanical and electrical!
Plasma cutting is a process that cuts through electrically conductive materials by means of an accelerated jet of hot plasma. Typical materials cut with a plasma torch include steel, Stainless steel, aluminum, brass and copper, although other conductive metals may be cut as well. Plasma cutting is often used in fabrication shops, automotive repair and restoration, industrial construction, and salvage and scrapping operations. Due to the high speed and precision cuts combined with low cost, plasma cutting sees widespread use from large-scale industrial CNC applications down to small hobbyist shops. CNC cutting machines, such as CNC plasma cutting machines, utilize their intricate software systems and components to efficiently, accurately and smoothly handle plasma cutting processes.
Cnc Plasma Cutter 1530,Plasma Table Cnc Plasma Cutter,Cnc Portable Plasma Cutting Machine Price,Portable Plasma Cut
Shandong U-May CNC Technology Co., Ltd. , https://www.sesamecnc.com