On December 12, 2010, Yuchai's 2010 Supplier Conference was held in Kunming. More than 600 suppliers from nearly 300 parts suppliers from all over the country gathered in Kunming to jointly create the best supply chain plan for the industry. Director of Yuchai Machinery Co., Ltd. Chang Puping, General Manager Li Tiansheng, and company leaders including Ning Xingyong, Liang Qingyan, Zhong Yuwei, Shen Jie, Xiao Xiaohong, Yu Jie, Zhuo Bin, Li Qin, and Chen Ningbin, and Fan Jiang, president of Yuchai Supplier Association attended the event. meeting. The conference was presided over by Li Tiansheng.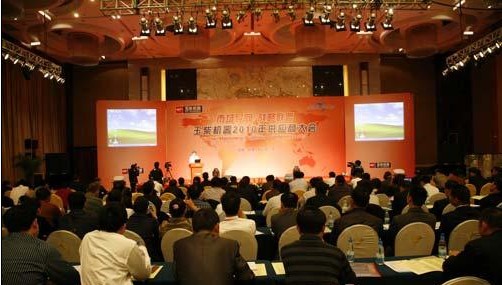 In 2010, Yuchai Bing continued its internal training, maintained its objectives, and built a business strategy of continuous improvement, and continued to improve its management. With the cooperation of all Yuchai people and suppliers, Yuchai not only achieved its sales target in advance, but also maintained continuous growth in all market segments. Among them, the conventional bus maintained 56% and the medium bus market maintained over 74%. In addition to the market share, the proportion of the heavy truck market has increased to 9%, and Yuchai's market competitiveness has steadily increased. 2011 is the first year of Yuchai's 12th Five-Year Plan. In the next five years, Yuchai will make every effort to build one hundred billion enterprises. As one of the core competitiveness of the company, the level of product supply chain upgrade is very important.
At the meeting, Junping affirmed the achievements of the procurement and supply work in the past year. First, the concept of procurement work has been transformed, and fairness, fairness, and openness have become the criteria and direction of work for each procurement staff. Secondly, simultaneous development with suppliers has been established. The mechanism is closer to the supplier's cooperation; the core competitiveness of the supply chain is again fully enhanced, and the supplier's product quality is steadily increasing. Creating the best supply chain in the industry is the need for Yuchai to develop and survive in the 12th five-year period. It is hoped that all suppliers will firmly believe that Yuchai and its suppliers are always in an interest community, and they must be confident in facing the severe market situation in the future, focus on product quality, and jointly create engine products. In order to create the best supply chain, Junping advocated the establishment of a supplier alliance. He said that on the basis of win-win results, information sharing, joint development, mutual assistance in management, risk sharing, capital operation, prior service, and cultural co-building, a strategic alliance for common development should be established and formed among suppliers. Close cooperation, achieving harmonious development and mutual benefit. Members of the strategic alliance should have: First, compatibility, alliance members have certain compatibility with Yuchai in terms of strategy, production, sales, finance, corporate culture, etc.; second, complementarity, and the medium and long-term development capability of the members can be developed with Yuchai. Complementary products, reliable products, controllable costs, and competitiveness; Third, with a sense of synchronization, strategic alliance members agree with the strategic objectives of the alliance planning, under the conditions of mutual benefit to ensure Yuchai resources priority. The establishment of a supplier alliance will eliminate the arbitrariness of supplier development, ensure the rights and interests of suppliers, and improve the quality of suppliers' products, so as to promote the improvement of Yuchai's product quality and achieve a harmonious and win-win situation.
Li Tiansheng's specific requirements at the meeting must first be determined with confidence and work together to join hands with Yuchai; secondly, emergency preparations must be made to ensure production and guarantee assembly requirements for the current month and next season; the third must be actively promoted. Strategic cooperation is based on the conceptual framework of the strategic alliance proposed by Chairman Mao Ping. The fourth is to be stable, improve, and be harmonious and highly efficient. Commitments and suggestions put forward by suppliers must be carefully sorted out, and supervision must be strengthened. Improve and solve as soon as possible to achieve a harmonious and close cooperation between Yuchai and its suppliers. Leaders of Ning Xingyong, Zhong Yuwei, Liang Qingyan and other joint-stock companies made special reports on the work report, company development planning report, and parts quality report. Fan Jiang, president of Yuchai Supplier Association, made an annual report on the work of the Federation.
The conference commended four key suppliers including Beijing ASIMCO Tianwei Oil Pump Co., Ltd., Guilin Fuda Crankshaft Co., Ltd., Guangxi Jinchuang Auto Parts Manufacturing Co., Ltd., Ningbo Fuhrin Automotive Parts Co., Ltd., and Bosch Automotive Diesel. Systems Co., Ltd., ASIMCO Nanyue (Hengyang) Co., Ltd., Beijing Peitelai Electric Co., Ltd., ASIMCO Meilian (Langfang) Braking System Co., Ltd., Yuchai Huayuan Machinery (Yulin) Co., Ltd., and Yulin City Dadian Electric Co., Ltd., Guilin Fuda Co., Ltd., Guangxi Jinchuang Auto Parts Manufacturing Co., Ltd. and other 21 excellent suppliers. Zhang Ping, Li Tiansheng and other joint-stock company leaders awarded prizes to the winners. In the afternoon of the same day, four special sessions including quality, product development, capacity building, monopoly, and remanufacturing were held, and related issues were discussed in depth with suppliers.

1.Novel appearance and bright appearance
2.The hot air distribution is uniform, and the drying efficiency is increased
3.All digital P.I.D control
4.Cylinder and internal parts are made of stainless steel
5.The charging barrel is separated from the bottom, the material cleaning is convenient, and the material changing is quick
6.Overheat protection device, can reduce the accident caused by man-made or mechanical failure
Adhering to the " integrity,innovation,mutual win,beyond" business concept, and shoulder "do the best plastic&rubber auxiliary machine in China" corporate mission, according the market and customer demand-driven,scientific management,fiexible production. For the customer,supplier,employees,enterprise,society to create greater value, is committed to be the most influential plastic&rubber machine industry leader.
Plastic Hopper Dryer,Hopper Type Plastic Dryer,Hot Wind Style Plastic Hopper Dryer,Hopper Dryer For Plastic
Ningbo Tongyong Plastic Machinery Manufacturering Co. Ltd. , https://www.tongyong-machinery.com